As published in
The
Hamilton Spectator
and
theSpec.com
April 13, 2013
by Meredith MacLeod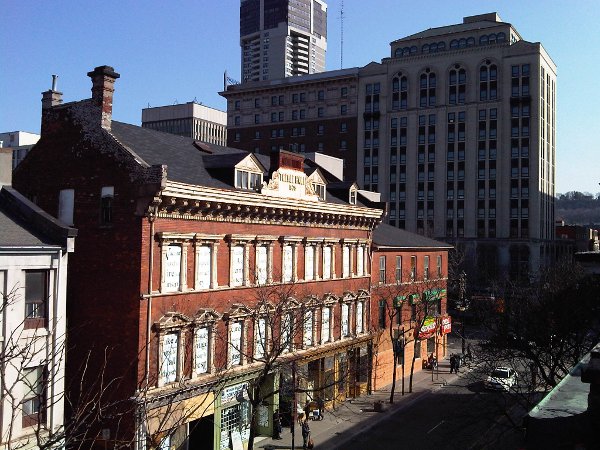 The goal is to someday produce a full-length film about Hamilton's downtown revival, but for now there is a series of five short videos telling some positive tales.
The Renew Hamilton Project has documented renewal efforts aimed at Gore Park, the Wilson-Blanchard proposal for the south side of Gore Park, Treble Hall, the waterfront and the Witton Lofts as case studios in hopes it will inspire, encourage and guide others looking to invest in Hamilton.
Renewal projects are complex, costly and often risky, so the series is meant to provide some best practices for those thinking of jumping in to build a "renewal community" in the city, said Renew Hamilton director Richard Allen.
The videos feature interviews with developers, urban planning experts, business leaders, politicians and city staff, along with plenty of shots of work and events going on in the city.
Renew Hamilton will publicly unveil its renewal case studies at an event Tuesday, April 16.
"Hamilton has great untapped renewal capacity," said Allen. "People talk about the bones of the city. It was built to handle a larger population."
There are examples of renewal happening in big public projects and in private investments of all sizes, says Allen.
Ken Greenberg, former director of urban design and architecture for the City of Toronto, says telling these projects' stories is a powerful way to accelerate the transformation that is happening in many North American cities because they will speak directly to entrepreneurs who are willing to take chances.
The downtown opportunities are just about tapped out in Toronto, so the next natural place to look is highly affordable Hamilton, says Greenberg, who appears in the videos. That trend will just take off with all-day GO service, he predicts, and will extend the influx of newcomers beyond artistic types to those who own businesses or commute every day.
"Hamilton has great old neighbourhoods and walkability. I have lots of friends who grew up in Hamilton and are thinking of going back."
Jeff Feswick, an urban restoration expert, talks in one video about his impressions when a realtor took him through Treble Hall, built on John Street South in 1879, which had been empty for about 50 years.
"It was screaming for help," said Feswick, who figures every other potential buyer ran out of the building. "It was a complete wreck and I had to have it."
Now Feswick is transforming the former eyesore. There is newly opened French-inspired café and boutique called Moulin Rouge on the ground floor and plans for performance and entertainment space upstairs.
Former Hamilton mayor Fred Eisenberger says the videos are a chance for Hamilton to celebrate its wins, including new condos, an infusion of restaurants and city investments in the library, farmers' market, Lister Block and the MacNab Street bus terminal.
"I think the whole thrust is about a sense of confidence that things are happening in Hamilton," said Eisenberger, former CEO of the Canadian Urban Institute, who is featured in the videos.
Developer Vince Molinaro agrees that the time is right for high-end condo development, especially on the waterfront. His family's construction company has done many projects in Hamilton in past decades but has mostly made its mark in Burlington.
Molinaro Group owns some land downtown and also has site-plan approval for a luxury condo development on St. Joseph Drive, but Molinaro is keen to partner with the city or the Hamilton Waterfront Trust on a residential project at the waterfront.
"We like to build in unique areas. There is great potential for Hamilton's waterfront. It doesn't get any better than that."
All the current developers involved have agreed to appear in the next set of progress reports and Allen is scouting about 15 prospects to add to the video series. One confirmed is the new McMaster University health campus being built at Bay and Main.
Renew Hamilton is a Hamilton Chamber of Commerce initiative started in 2012 that is dedicated to documenting, promoting and accelerating downtown renewal. The idea came out of a presentation by Hamilton Economic Summit speaker Storm Cunningham who challenged Hamilton in 2010 to become the "revitalization capital" of the country.
VIEW ARTICLE HERE IN ITS ORIGINAL PUBLICATION
mmacleod@thespec.com
905-526-3408 | @meredithmacleod