105 Aberdeen Avenue, Hamilton, ON, circa 1893
CORRECTION - THIS HOUSE IS NOT FOR SALE. TURNS OUT THE SIGN WAS A PROP FOR A MOVIE SHOOT. GUESS THAT MEANS I STILL HAVE TIME TO SAVE FOR THIS ONE FOR WHEN IT REALLY COMES ON THE MARKET!
WOW! This is one of those ones that you daydream about every time you walk by and swerve off the road when you see its for sale. My wife reported seeing the sign today and I knew I had to jump onto the computer and make a post. No pictures or listing online yet - and its killing me!
Guessing $1.6-$1.9MM for this one...
Good news is that this home is of historic significance and is in a few Hamilton architecture books I have. Below are some pics...

Excerpt from
The Grand Durand by Graham J. Crawford (above photos also by Graham Crawford)
:
The home was built by prominent local banker John Stuart in 1893 as a wedding gift for his daughter and her new husband, lawyer Patrick Bankier, on land severed from the Inglewood estate Stuart owned (see below...
click here
for related blog post). Mr. Bankier died suddenly at the age of 39 after living in the house for only 4 years. The home was called Ingleneuk.
The second owner, Robert R. Moodie, purchased the house in 1919. Moodie sold the house in 1935 to Mark Holton, President of the Chipman-Holton Knitting company. Mark Holton's grandson, Lindsay, now lives at 112 Aberdeen Avenue (see below) and remembers being escorted into his grandfather's study located in the curved bay window to say hello to him whenever they visited.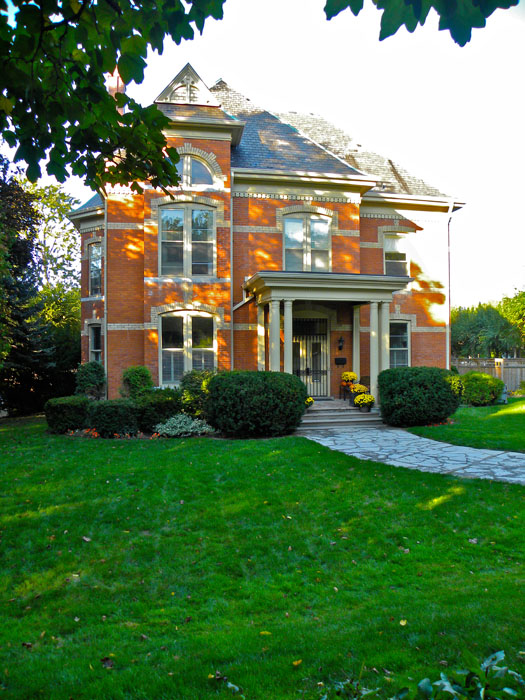 Originally, the home had an elaborate set of stone stairs facing onto Aberdeen. The stairs and porch were removed in 1964 and the main entrance moved to Bay Street South (see below photographed in 1899).

Photographed in 1899 - as seen in the book "Footsteps in Time"
When built, the home had 8 fireplaces, all of them coal burning. The current owner purchased the home in 1991, one week before the house had been scheduled to be demolished (TFG!).